Reading Recommendations
For a short time as I ventured deeper into the world of writing, I thought I would write book reviews as a way of building a larger audience.
That didn't last long for a number of reasons. Perhaps the most important reason, in my opinion, is that reviews tend to either crush the breath out of someone or make their heads swell so much they stop trying to improve. Reviews don't help, except when it comes to book sales.
Another reason, closely related to the "crush or swell" possibility, is the fact that I am actually starting to form relationships (virtual and in person) with many writers--all of whom have ventured into a scary and emotional journey. Many of them have decided to go the route of self-publishing, which is fraught with its own pitfalls and challenges. Who hasn't read a book or two or a dozen that was published before it was ready, by an author who simply wanted to bypass a (sometimes much-needed) editorial process? This doesn't mean all self-published authors are like this--but the true gems and fabulous works often get lost in a deluge of mediocrity. Sadly, some of that mediocre work has come from author's whom I have established relationships with. Do I want to be the one that crushes their dreams when my own is in such a fragile state of impossibility? Not on your life.
As a theatre director I've received reviews, good and bad, sometimes for the same show. As is true to my self-doubting nature, I always tend to focus on the negative reviews.
Why didn't he get it? What could I have done? How could I fix it? Should I give up directing altogether? 
Yada, yada, yada. . . .
[caption id="attachment_6785" align="aligncenter" width="819"]
I Stand Before You Naked
directed by me at the University of Hawaii. One critic complained because the women didn't actually get naked--he completely missed the point.[/caption]
The thing about reviews is that it is just
one person's
opinion. One person, who may not like the genre, or may be in a crappy mood. One person who might prefer writers who use short choppy sentences over languid flowing language. One person, who may always prefer dominating male characters over strong female characters. One person, who . . . well you get my point.
Everyone is an individual, with individual tastes.I can tell you what I like or dislike about a book, a play, or a movie but that doesn't mean it won't appeal to you. Case in point, a couple of weeks ago I took my daughter to see 
Epic
, a movie which--for the most part--got bad reviews in terms of story but excellent reviews in terms of animation. Let's just say those reviews weren't written by ten-year-old girls, the audience that really counts.
"Can we  get the video?" she asked as we left the movie theatre--a question she reserves for movies she will watch over and over again.
While I do feel I have a critical eye for good writing, for what makes a story flow and character strong, I would prefer to use that eye in a constructive way. If asked, I'm happy to give feedback on drafts of things (and hey, maybe someday I could actually make a living doing that, who knows?). Giving constructive criticism to help strengthen a work so it can succeed feels much better than destroying a person's dream when it's already too late.
I no longer want to write reviews.
I enjoy recommending books to people. Books I loved for all kinds of reasons. Books that made me think even if I didn't love them. Books I may not have enjoyed, but that suit another person's taste. Books that I think everyone should read. And now, added to the list, books written by friends that deserve to see wide audiences. However, I prefer to recommend books to people because I know the people--I know what interests them and what they might like. I will give caveats if I found a book poorly written or something bothered me, but still recommend a book if I think the story or topic will interest someone.
There are a few people whose recommendations to me I trust completely. I will read anything they suggest. We don't always agree on books, and we have some different interests when it comes to reading but I have implicit faith that their recommendations will be interesting, thoughtful, well-written, excellent storytelling and challenging in some way. What more could you ask for in a book?. What more could you ask for in a friend? One of these trustworthy souls (occasionally) blogs over at
Schmidtty First Drafts
 and is a font of information about literature, pop culture and other fascinating things. If she suggests something, I take note.
All of this is a
rather long-winded
way of saying that I try to take recommendations seriously and will not just recommend any book without being sure it will appeal to the people who might ask for my opinion. It's about respect . . . for my fellow writers as well as my fellow readers. Why should anyone trust my opinion if I know nothing about them and their reading interests/habits? Would I trust theirs?
With all that, I now want to recommend some books.
For Lovers of Mystery
Read 
Desired to Death
by J. M. Maison, aka
my blogging buddy, Julia Monroe Martin
. This is a delightful summer read (actually any time you feel like a little mystery). Miss Marple meets Jessica Fletcher, meets modern woman facing a big change in her life as murder and mayhem make their way into her cozy little home in Maine. Julia is a fabulous writer and I truly enjoyed this book. The book description:
The empty nest can be murder! Just ask stay-at-home mom Maggie True whose daughter has just left for college—leaving Maggie with a burning question for her husband Joe: "Now what am I going to do with the rest of my life?"

Never in her wildest dreams does small-town Maggie imagine the answer will come in the form of a middle-of-the-night call for help from an estranged friend who has just been arrested for the lurid murder of a much-younger lover: A.J. Traverso, AKA Tattoo Boy—a sexy kickboxing instructor who had captured the fancy of all the women in Halfway Bay, Maine.

But solving this mystery will be no walk in the dog park. For below the surface of her sleepy coastal town, resides a dark world of secret lusts and desires that Maggie has never imagined. And when an anonymous tip to the police suggests that happily-married Maggie was involved with A.J. Traverso, the investigation becomes more than just a curiosity. For Maggie True, the solution to the mystery of what to do with the rest of her life—and the identity of the cold-blooded killer—might be closer than she thinks…

For anyone who has ever faced a life transition and wondered "What next?" Desired to Death answers with an irresistible mix of suspense and intrigue, humor and heart.
For Lovers of Creepiness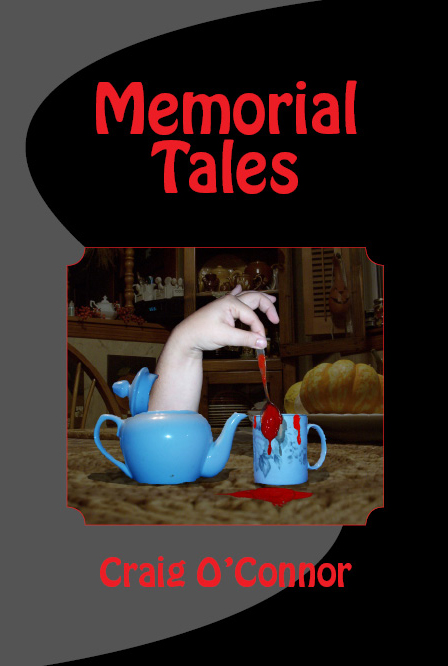 I have known Craig O'Connor for more  years than I care to count. (Let's just say there are pictures of us in a high school musical production of 
Guys and Dolls
). I didn't know he would grow up to be a screenwriter and an author. He has begun sharing his book 
Memorial Tales 
(2012) in installments
on his blog
, and can I just say . . . creepy stuff! I love creepy stuff, but I only recommend this for those of you who enjoy a little trip to the dark side. Wander over and check it out.
For Lovers of YA
"1 Concert 2,000 Miles 3 Ex-Best Friends"
I took a workshop with Hilary Weisman Graham at the New England Society of Children's Book Writers and Illustrators conference in May, and bought her book then. This is a fun road trip/coming of age/friendship contemporary young adult novel. Graham also had an interesting approach to publicity for her own work, which involved creating a fake band and videos to go with the songs she wrote for the book. This is a fun read by a
really interesting woman.
There you have it folks, some recommendations. Once in a while I may make more, once I get to know you better, of course. ;)
When do you recommend books? What kinds of books do you recommend? Do you pay attention to reviews?