Richness and Brutality: A Review of MOTHER NILE by Warren Adler
More and more often lately, I have been offered a free copy of a book in exchange for an honest review. I don't accept every offer,  sometimes because a book doesn't interest me, sometimes because I don't have time, and sometimes because I don't feel that an honest review will be welcomed.
Still, I love these opportunities, especially when it introduces me to an author that I haven't discovered yet or a world where I have yet to journey, even in my mind.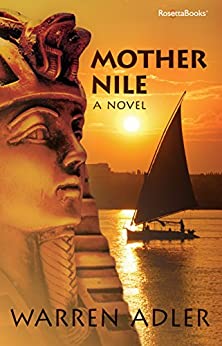 MOTHER NILE by Warren Adler, offered me a journey into a rich, dark, somewhat disturbing world of sex, power, politics, drugs, and insight into an Egypt I never imagined. It's difficult for me to say I loved this book, because it shares a brutal reality that makes me uncomfortable, but Adler does this with such rich description, powerful prose, and intense understanding of some of the dark truths that exist in the world that I wanted to read more and more.
At times I got a little lost in the timeline and in the discussion of the politics surrounding Egypt at the time of King Farouk (who abdicated his throne in 1952). In the world of MOTHER NILE, before this took place, Farouk fathered and rejected a daughter named Isis with a a beautiful belly dancer named Farrah. Farrah was brought to Farouk by his right-hand man, Zakki. Zakki wants Farrah for himself, but she rejects him, leading to this complex exploration of revenge, lust, and family. The story is told through the perspective of Osiris  (Si), Farrah's son with her Irish husband, who only learns of the existence of his half-sister at his mother's death bed. Si begins a quest that will bring together all the complex threads of desire, hate, revenge, purpose, and the search for meaning in life.
This is not the type of book that I can easily say you must read, as it is a journey into darkness. But, at the same time, it is a journey into hope. I will be reading more of Adler's work, because I truly admire the ability of a storyteller to depict the "truth"  of the world he explores with such brutal beauty.
MOTHER NILE 
will be available for purchase on Nov. 1, 2016.