Singularity Cover Reveal: The Power of Community, Support, and Social Media
While the act of writing might be a solitary one, in the modern world of books the reality is that in order to succeed even the most talented author needs help. Sure, those with more traditional contracts have teams of support (if they are lucky) from editing to publicity , but there is no guarantee. When published through smaller, independent publishing houses (like Word Hermit Press) or self-publishing, it becomes even more important to develop a team of supporters to help spread the word and make sure your work is the best possible product. You need reliable  beta-readers, fantastic editors, and a supportive network that believes in your work and wants to see it succeed. This can be a challenge for someone who is a little shy and doesn't like the marketing aspect of the business. Many of us would, of course, rather focus simply on creating quality work, but the reality is that even the most brilliantly written book will remain in obscurity if it never reaches beyond our circle of friends and acquaintances.
As I journeyed into this reality, I have had the privilege of meeting (at least virtually) incredibly talented authors who I now count as friends. They have shown me the power of supportive posts, publicity, and reviews (REVIEWS MATTER, FOLKS). They have given me pep talks when I felt like waving my hands in surrender (and vice versa). But, more importantly, they have provided me with hours and hours of rich stories, told in creative ways, with eloquent language and powerful imagery--stories that makes my heart yearn to become a better writer.
One of these amazing people is Helena Hann-Basquiat, whose Memoirs of a Dilettante are a joy to read. Hann-Basquiat also has an amazing ability to write darkness in a way that creeps into your soul, sending chills up the spine, and yet still celebrating the beauty and wonder of what it means to be human. In the novel JESSICA, Hann-Basquiat, along with other fabulous writers, takes the reader on a "journey into a place filled with psychosis, evil, terror, humanity, and images of the nightmares that hide within each of us." (from my review of Jessica)
For that reason I am honored to be able to share the news of the sequel to JESSICA. I've read a snippet of this, and I can guarantee that anyone who loves stories that thrill, chill, and make you feel a range of emotions written in fabulous prose will like this book.
Cover Reveal: Singularity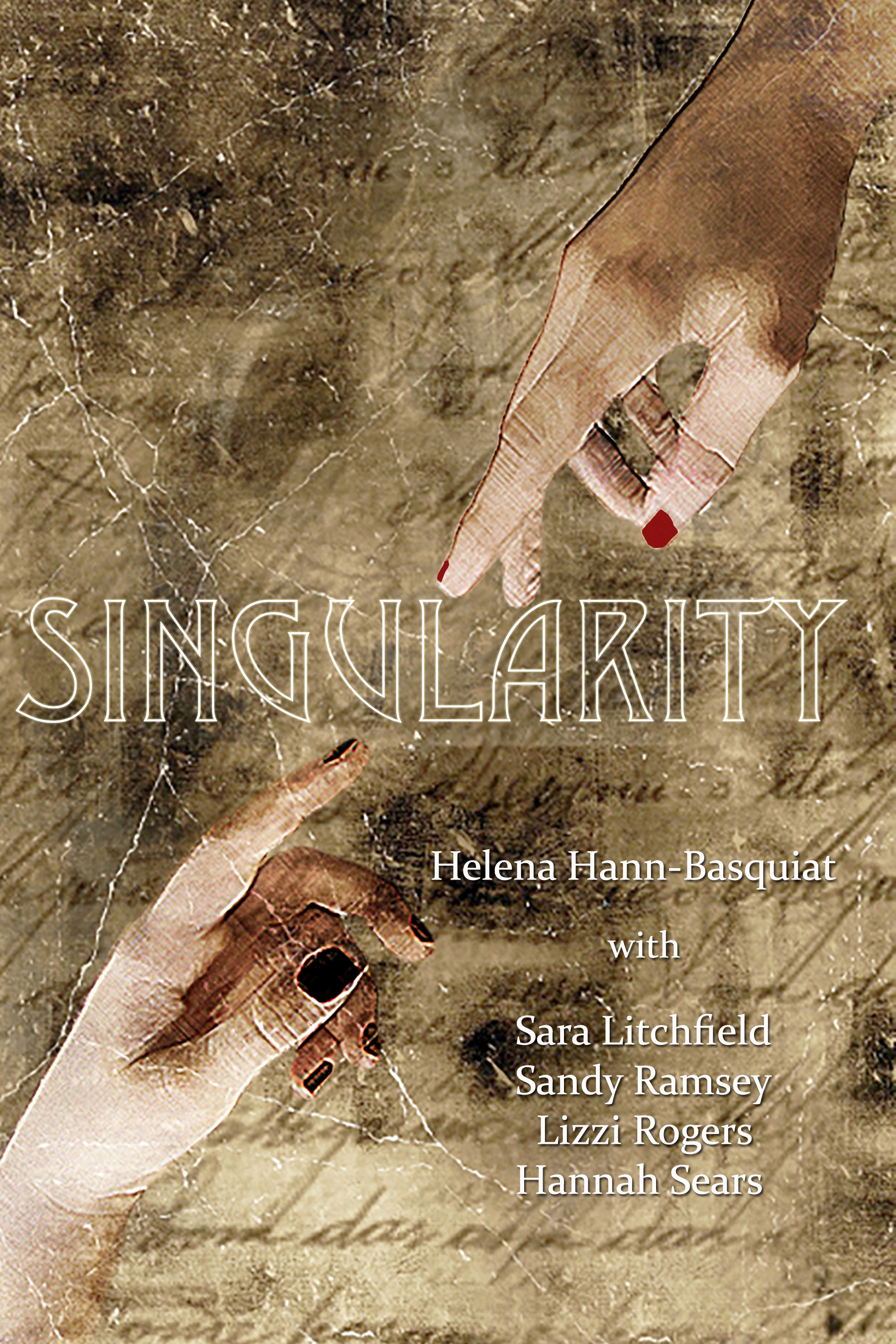 The time has come.
The time is now.
Singularity is the new novel from Helena Hann-Basquiat, with Sara Litchfield, Sandy Ramsey, Lizzi Rogers and Hannah Sears.
Singularity is the sequel to last year's JESSICA -- a metafictional look into Jessica's possible pasts.
Singularity is coming August 1, 2015
Singularity is its own novel, and can be enjoyed all on its own, but if you haven't read JESSICA,
GO HERE
to read the first chapter or
GO HERE
to purchase a copy in paperback or e-book.
http://www.youtube.com/watch?v=bdcd9rEBgV0